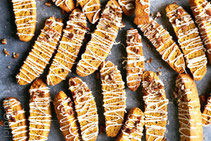 Don't you just love this time of year--especially in our desert! The temps are cooler in the morning and early evening. We've had some wonderful rain which the plants love. The temps are still fairly warm during the day, so you'll find our members stitching away in their air conditioned sewing rooms.
Our Neighborhood Groups are getting back into the swing of things after the long summer and forced separation. Some meetings are small in-person groups, some are still only on Zoom, and others are a hybrid of the two. 
We welcome anyone interested in our guild chapter to attend two meetings with any of our groups before joining. We'd not only like to get to know you, but also have you get to know us and find your sewing home away from home. 
Fall is an exciting time and a good majority of our members are not only fantastic and creative stitchers, but cooks and bakers, too! We, after all, need to keep up our strength to carry those bolts of fabric, lift the iron, and move things around our sewing rooms. Maybe a good treat for the next NG meeting would be a Spiced Pumpkin Biscotti to share--it's time to start thinking about stitching for the holidays and the smell of pumpkin and spice might just get one in the mood.
Recipe: https://tutti-dolci.com/pumpkin-spice-biscotti/
~Ramona
Chapter Webmaster